Critical Stages of Business
From the moment you are sitting at your kitchen table with a great concept until the day you step away from your profitable enterprise, having an experienced lawyer on hand will prove invaluable. Len Goldstein has been involved in the practice of law through every stage of business for more than 50 years. With this experience, Len has observed all successful business go through these stages of business: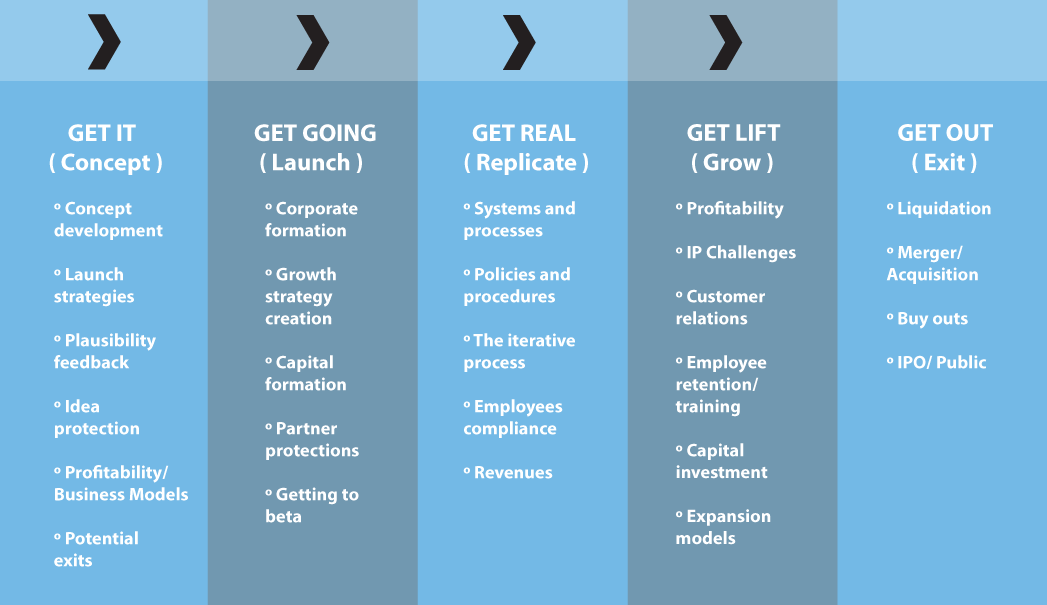 Get It: Concept
Discover your intellectual property strategies as your business concept takes shape. Ask yourself:
Does a market exist for my concept?
What are the practical considerations for protecting my idea?
Can my concept create revenue?
Get Going: Launch
Begin to formalize your concept into profitable enterprise by considering entity structure, partnership agreements and capital raising activities. Ask yourself:
How will I raise money?
What will I offer potential investors?
Am I protected?
Get Real: Replicate
As structure emerges around your enterprise, challenges ranging from hiring and compensation to leasing space will emerge. Ask yourself:
What are my short term and long term staffing needs?
Do your policies and procedures amply protect both you and your staff?
Are systems in place to promote growth?
Are contracts and agreements in place?
Get Lift: Growth
Growth will bring questions related to scalability, expansion, protection and negotiations, often within the same day. An experienced attorney on retainer can be a relief when quick decision making is required. Ask yourself:
Am I prepared with sales contracts and customer agreements?
Is my intellectual property protected?
How will I reinvest back into the company with maximum returns?
Get Out: Exit
Exit strategies can range from selling to a buyer to passing the business to an heir. The crux of this stage is to examine the liquidity event and concept realization. Ask yourself:
How can I retain the earnings and reduce taxation?
What formalities are needed to legalize the sale?
Are there rules and regulations I should be aware of?